Our basement family room for HDC Holiday Homes
Disclosure: This post is sponsored by Home Decorators Collection® as part of HDC Holiday Homes blog tour. All opinions are my own.
Today I partnered with Home Decorators Collection® for their #HDCholidayhomes blog tour with a group of other amazing bloggers. For that I decided to deck out our basement family room that was in desperate need of some holiday sparkle. Remember when I posted the progress I made HERE? Well there are always a lot of kids and manly art in here and I really felt like it needed some festive touches too. So thanks to Home Decorators Collection® I am much happier with it now. Make sure you check out all the other homes on the blog hop and to follow along on social media via #hdcholidayhomes. I really think you are going to enjoy this one plus at the bottom of this post you will have a chance to win one of two $250 gift cards! Isn't that a great giveaway?
Our basement family room for HDC Holiday Homes

So let me show you what I picked from their holiday decor selection. I picked  the Martha Stewart Living™ Lighted Cedar in Metal Planter, the Martha Stewart Living™ Snowflake String Light Garland and the Martha Stewart Living™ Glass Ball Mini Ornaments I really never knew that I like Martha Stewart items but apparently I do.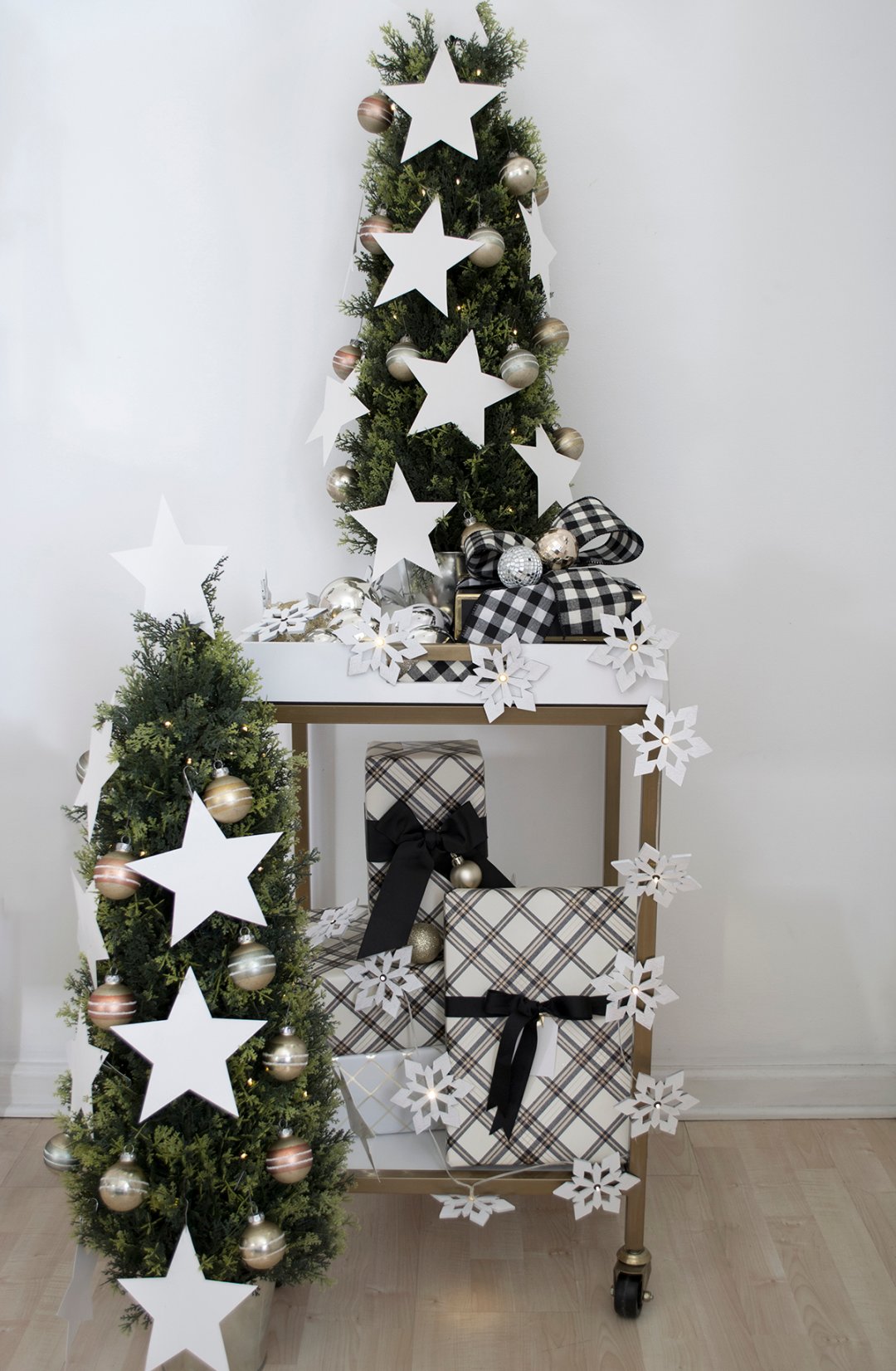 Although it was a little hard to take photos in the basement, I love the way it looks. The lights are on battery and can be put on a timer which is really nice.
The snowflake garland is perfect for the bar carts. I love the sparkle they add. The stars are paper cutouts that I made with my silhouette cameo years ago and they still always look great for such an affordable option.
The little ornaments match our sectional perfectly. I wanted to stay neutral since there is so much stuff in our basement already.
I also wanted to stay symmetrical since I have matching items on both side of the sectional which is the reason I wanted two identical little trees. The garland is also draped over the arms of the sofa on both ends.
The sparkly pillows were something I found in my pillow stash. Love when that happens.
With all that sparkle you barely notice all the Sports Illustrated Covers, right? I couldn't be happier. And since this space has a bar in it, I will have my annual neighborhood cookie exchange down here tonight. It's always a lot of fun.
The rest of my house has some more color which you can see HERE and HERE.
Tschüß,