Living Pretty With Your Pets: the space between
TGIF my friends and time for pets. I can't believe how fast this week passed again. I hate that. But I'm finally finding some posting routine again and learning how to be friends with my new blog. I hope not too much changed for you and you are finding your way around easily on my little blog.
Today I want to introduce a really fun and talented blogger, I should probably call her a free spirit and true DIYer. I met Karah of the space between at Haven and she leads a live that I have kinda always wanted to live, just wait until you read her story.
Well hello there Cuckoo 4 Designers! I'm Karah and I blog at the space between where Marley and Mico, our lab mixes, often steal the show.
I had the pleasure of meeting Julia at the Haven blog conference in July and I'm going to spill the beans on her right here and now. She has mad dance skills and she is seriously talented at creative hairstyles. My husband's work holiday party is a Las Vegas theme this year and I wish I could fly Julia down here to do my hair like a showgirl. For real! And she's a pet lover so she is clearly good people.
As for me, I am much more Cuckoo 4 DIY than I am for design. I like to take old things and turn them into something new and functional, I like to build things with pallet wood and I like to try to create a home to love with our own hands. And right now that puts us knee-deep in a full renovation of our 1950s house in Key West, FL. It also puts our beloved pups (aka "the girls") right in the middle of what we call our obstacle course of a house. Sometimes the obstacles are by design, like to keep Marley out of the guest bedroom while I stain the floors or build a new wall-to-wall closet.
But she is put right into the lime light when the projects are complete and ready for photos.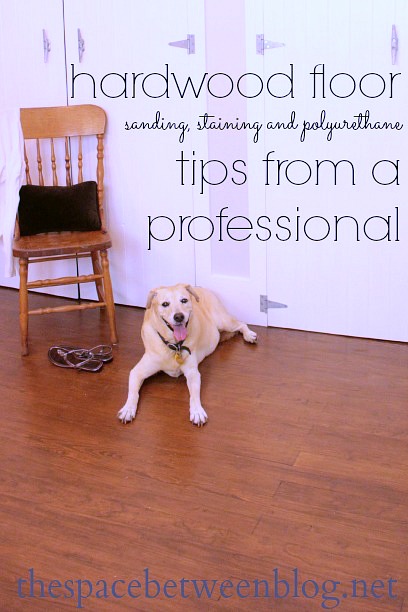 I actually grew up on a dairy farm in a small town in Maine and have been surrounded by animals my whole life.
I just love their companionship and individual personalities. Working from home for the past 5 years, the girls have been the best "work wives" I could have asked for. But my husband and I joke that we really needed to call and thank our parents after we had Marley for a few weeks. It is so true that as a kid you don't realize the true commitment it is to own a pet. And one year after we got Marley we learned that her mother was pregnant with another litter (the owner of the mother was a co-worker of my husband and let's just say they were both "accidental" pregnancies) so we couldn't help but go pick out a little sister who we named Mico.
Mico is an acronym for our nieces and nephews names who just recently visited so we snapped a shot of the 6 grandkids … Marley, Mico, Maya, Isaac, Colin and Olivia.
Marley and Mico have lived in the midwest, the mid Atlantic, here in the Florida Keys and even on the Caribbean island of Curacao. Mico had to have her spleen and a grapefruit-sized tumor removed while we were living on Curacao and to say the veterinary experiences down there are different from what we've come to expect here in the USA would be an understatement. But, they did let us bring beers and our laptop to lay with her in her kennel and watch a movie for the afternoon while she recovered. #PricelessMoments
That experience inspired me to write about designing more for function than form and I also shared some of our daily life experiences, girls included of course, like what it was like to walk around our neighborhood. Spoiler alert: there are a lot of dogs in Curacao.
The older they get, Marley is 13 and Mico is 12, the more often I feel bad about some of the living situations we put them in while we're trying to create a home.
But, like any good companion, they always seem to be the happiest when they're right in the middle of the madness with us.
Some of my favorite craft projects revolve around these girls. A few years ago I made simple DIY canvas silhouettes of their images, you don't need any fancy cutting machines for this project.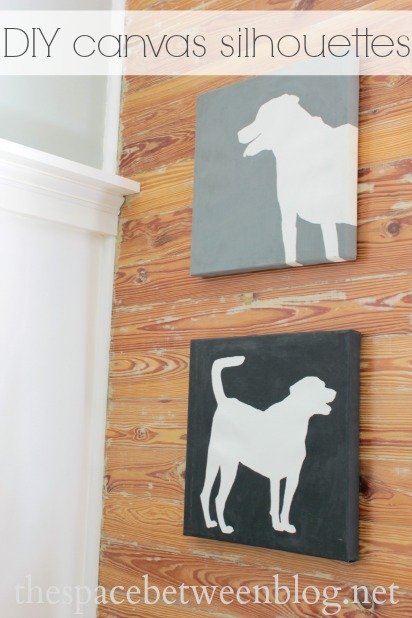 And some of my favorite Christmas tree ornaments are these little dog bones which you can make with something that is probably in your fridge right now.
It is safe to say that these girls have made us a family for the past 13 years (and counting) and they are just as much a part of our life's journey as any human could be. It's a pet lover thing, I know you get it.
If you're into any kind of DIY with all kinds of pictures of cute old lady dogs mixed in it'd be great to see you in the space between sometime. You know that space, it's the one between where you've been and where you're going and we're on a DIY journey to make the most of it. With the girls wagging their tails along the way.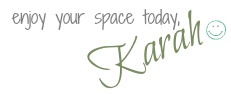 To read more animal posts you can click HERE.
OMG, mad dance skills?!?! Me? I don't know about that LOL.
How lucky are Karah and her husband to have lived in such an exotic place as Curacao? But I don't even want to imagine how scary it must have been to bring your pet to the vet there. Yikes!
And check out her amazing bathroom! I would feel like I'm on vacation every day if I could have a glass of wine in that tub (click HERE). Well it kinda is like being on vacation every day if you live in the keys.
Make sure to visit Karah by clicking HERE and have an awesome weekend.
Tschüß
(Youleeya)